Biography
Phillemon Hlungwani is recognised as one of the most accomplished contemporary artists now working in South Africa. Known predominantly for his large-scale charcoal drawings depicting scenes from rural life and formal and informal settlements, his work is rooted deeply in a sense of community and traditional values. 
Many of his recent drawings include proverbs in his first language, xiTsonga , as ­titles. These proverbs are often difficult to translate into English but they communicate an essential moral idea – showing how members of a particular community are either sustaining or betraying the values of the people who live there.
His more recent images have introduced colour into the clothing of his protagonists to help them stand out in all their vibrancy and humanity. The scenes he depicts are full of motion and life and  the characters communicate thoughts, opinions and yearnings, which are  through the arcs and lines that weave the different parts of each drawing together. Everything is connected. There is no distinction between the internal or the external, the animate or inanimate, the material or the spiritual.
As a boy, Hlungwani herded goats and cattle and looked after chickens. This relationship with the animal world is often present in his work. Trees were also a source of shade and food – both for animals and people and provided places for community debates, ceremonies and prayer.
Hlungwani suggests throughout his work that people who live in the simplest places with few possessions lead good, dignified lives and remain happy. They may have places to go and things to do, but they know who they are – where they have come from and where they are going.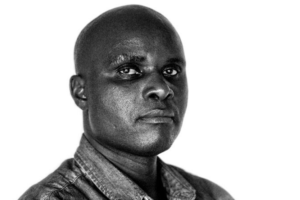 Artwork - click on images to view larger