Karin Lijnes
The Sculpture
Karin examines the partnership between nature and humanity. Her 'mobile' is animated by the constraints and challenges of the site, specifically the strong prevailing winds. Her homage to Calder is balanced by her reference to endangered indigenous birdlife. She explains, "the back of the birds are flat silhouettes marked with red crosses. These refer to the Red Date List (IUCN)"
The Artist
Karin Lijnes was born in Cape Town and completed her MAFA at Unisa in 1998. She was the recipient of a Sasol New Signatures Award in 1992 and has had work represented on numerous group exhibitions. In 2014, she organised the first Land Art event on the Noordhoek Common.
Lijnes has held 5 solo exhibitions, the most recent being at Rust en Vrede Gallery in 2016. Her article titled: 'Dynamic Shifts – The art of the Winterveld women' (first published in DeArte) was published in the anthology: The Face of the Spirit: illuminating a century of essays by South African women (2007) commissioned by Department of Arts and Culture. Published by Beulah Thumbadoo and Associates on behalf of the Department of Arts and Culture. Pages 183-186. Her work is represented in Permanent Art Collections as well as in local and international collections.
Karin is a practising independant artist, living and working in Noordhoek, South Africa.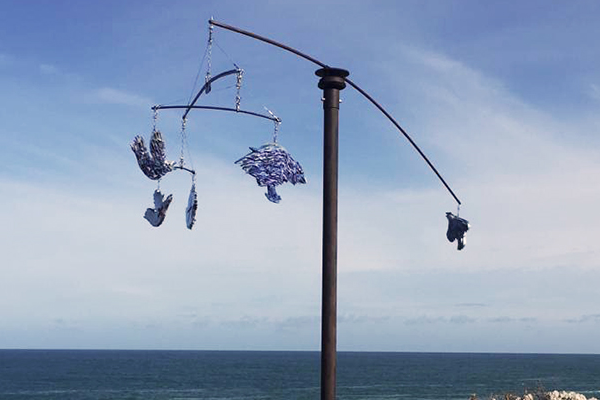 Artwork - click on images to view larger