The Sculpture
Jake developed his signature method of assembling multiple strands of metal rods to form exotic, bird-like images. These energetic and unusual sculptures have led to his participation in art fairs in Istanbul, Paris, Cape Town and Cologne.
The Artist
Jake Michael Singer experiments with a broad range of disciplines from photography to works on paper, and commands an exquisite mastery of sculpture. Drawing inspiration from the emergent behaviour of flocking birds, where the individual is subsumed in the whole; and meditating on the timeless monumentality of the Winged Victory of Samothrace, his Murmurations series speaks to our time. Meticulously constructed, using up to sixteen thousand meters of marine grade stainless steel for a single sculpture, the Murmurations series establishes his position as one of the leading young artists on the continent. 
Jake Singer completed his bachelor's at Michaelis School of Fine Art in 2013, after deepening his learning over the course of 2012 at Central Saint Martins in London. He was recognised by the Eduardo Villa Foundation Grant both in 2016 and 2017, the youngest sculptor yet awarded this. His work features in collections both locally and abroad, with two large-scale public sculptures in Johannesburg: Dawn Chorus, part of the RMB Collection in the Think Precinct, and Roarke's Evacuation Plan, a landmark on the Jo'burg skyline. His large installation, And all the Birds Flew with a Harsh Scream (Marmara), 2020, is featured in Iziko Museum's current exhibition Matereality.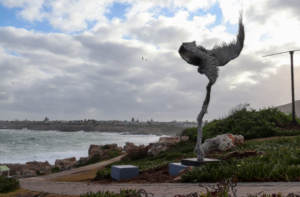 Artwork - click on images to view larger